Flexible lathe automation, profitable automated processing in small batch production
More and more companies are increasing the spindle hours of their lathes and milling machines by using the non-workable evening and night hours. In addition to customized solutions, the market offers a wide range of standard robot-based systems that can take over production without manning.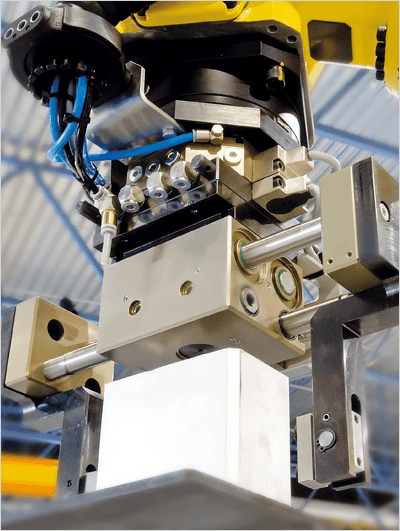 The range extends from universal robots that can be placed in front of the machine to complete standard cells. In the Dutch machinery exhibition Techni-Show 2012, Fastems Factory Automation presented just such a standard cell together with Dormac CNC Solutions, a Doosan reseller in the Netherlands. Fastems thus demonstrated how the new RPC production cell can be used to flexibly and profitably automate small batch production on a lathe.
Although all automation issues call for a customized solution, the objective always remains the same. Suppliers want to be able to profitably process small series in particular with an automated system and to quickly alternate between products. The key word is flexibility. Joost Verschure, sales leader at Dormac CNC Solutions: "Customers have a preference for a universal solution because in most cases they don't know what they will be making tomorrow. This calls for an automated system that can be used as broadly and universally as possible, preferably involving robotics. There is no such thing as a universal and broadly deployable system, but there are possibilities within limited weight categories. Standard systems such as these can be connected directly to the machine and offer an ideal solution for most small- and medium-sized companies. For lathe machine loading, we have therefore since recently offered the new Fastems RPC production cell. Fastems has developed a series of standard cells for various weight categories which make profitable automation of small numbers possible, with the new ­FastWizard control, for example."
Gantry concept
Henk Kremers, who represents Fastems Factory Automation in the Netherlands, recognizes the problem faced by many SME companies specializing in the supply of machine products. "Fastems has developed the RPC (Robot Production Cell) specifically for that target group. These companies not only want to be able to quickly process small series, but also to quickly and easily program the robot and also use the lathe as a standalone machine if necessary. Fastems has therefore opted for a robot suspended on a gantry in front of the machine." In a gantry concept the robot can be moved aside with a simple movement. Joost Verschure adds: "Theoretically you can plan everything precisely, but in practice there will always be rush jobs that have to be fitted in. That's why the lathe must also be accessible for manual loading. The gantry concept is a perfect solution for this. This concept also gives the operator plenty of scope for the configuration and adjustment of the machine, without obstacles and pipes or cables running over the ground."
Complete in a single 'container'
In the Fastems RPC, the robot and the new FastWizard control are incorporated in the cell frame. The cell is placed in front of the lathe as a complete 'container' and can therefore be taken into use with a minimum of installation time. Another benefit is that this concept needs only a limited amount of space (5.6 x 2.2 m, l x w). The ­Fanuc M-20iB robot can handle a wide range of products up to a maximum of 20 kg with a universal gripper. Joost Verschure: "That makes the cell ideally suitable for the automation of our Doosan Lynx and Puma lathes. It can be used for both, new and existing machines and can always be reused as a complete system or sold on (high market value)."
Fast and simple programming
The NC programs for the lathe, just as in standalone mode, are sent to the machine via DNC. For the feed and output of the workpieces, there is a fixed position for two trolleys or two material pallets measuring 1200 x 800 mm. Henk Kremers: "The cell is equipped with the new FastWizard control to tell the robot which parts it has to pick up at which position. The programming with a touch screen is exceptionally user-friendly and can be compared with a car navigation system. The operator goes through a number of fixed steps to configure the gripper, set the robot speed and the input and output position and the number of parts. Programming can be carried out during production and the programs can be saved and retrieved again at any time. This eliminates the need for following training courses."
Machine supplier usually the first point of contact
Joost Verschure: "The customer's first concern is to find the maximum of profitable spindle hours a year. The machine supplier is usually who the customer approaches first with that question. It is important to us to analyze the requirements of the end-user and to offer the right automation solution together with an automation party. This is based on the necessary processing machine. But Dormac CNC Solutions is a machinery supplier, not a robot integrator. For that reason, we prefer to work with a specialized party in the automation area. It is important for the customer to work with partners that have been together for a longer period of time. That ultimately results in the best solution."
Responsibility?
In cases where a cell is jointly supplied by two companies, a question that often arises is who is responsible if faults occur. Joost Verschure: "In most cases, it is the machine supplier. The customer should not therefore be faced with a choice. We are the first point of contact, and Fastems offers the familiar 8760 Teleservice support (365 days x 24 hours). It is possible to call in directly from Finland at any time, and this will clear the majority of the faults so that the customer never comes up against a closed door."
"The customer's first concern is to find the maximum of profitable spindle hours a year. The machine supplier is usually who the customer approaches first with that question."
Want to learn more?
Give us a call or send an email.
"*" indica i campi obbligatori